It's just as vital to choose jewelry that compliments your dress and event as it is to choose an outfit that complements your figure. Why do some individuals look stunning in modest clothing with just a touch of glitz, while others appear chaotic and disorganized? It all boils down to a few easy rules on how to style your jewelry for the event.
Every jewelry item can be a declaration in and of itself if you pair it correctly with the right clothes. However, there are so many options for jewelry that most of the time, we wind up choosing the wrong varieties, which ultimately spoils the entire appearance. When you wear the appropriate jewelry with the perfect dress, you will have everyone's attention on you.
To ensure that you don't make any mistakes and arrive at your next event looking great, we've compiled a list of tips to help you pick and complement your jewelry.
White Gold Fashion Jewelry
White gold is a joy to style because of its neutral color and sparkling brilliance. You may be more adventurous with your accessory selections while wearing white gold since it permits you to explore with colors and helps gem shades genuinely stand out, especially during special events that encourage attendees to wear stunning jewelry.
A wedding band set for couples with customized engagement rings or anything that symbolizes significant events is a standard pick for white gold. Choose wedding rings with diamonds, sapphires, or rubies surrounded by white gold to emphasize the gemstones if you want them to stand out.
To feel like a real expensive Hollywood celebrity, or even an elegant Frenchwoman, settling for neutral shades is the most straightforward method to achieve this style. Wearing dark hues also lets you accessorize your outfits with extra sparkle because it has a neutral color palette that complements your white gold accessories. All-black attire also makes getting ready in the morning a breeze. There's a perfect match for everything!
Accessorizing A Saree with Jewelry
Sarees are extremely adaptable clothing you can wear on several occasions, even though this is a commonly repeated cliche remark. Women love it because it gives them the sophisticated and calm image they desire. You can wear a saree for every event if dressed and worn correctly, from a family gathering to an essential career conference.
As vital as choosing the ideal saree is deciding on the proper jewelry to wear with it. You want to create a statement with your saree, so select a striking piece of jewelry to go with it.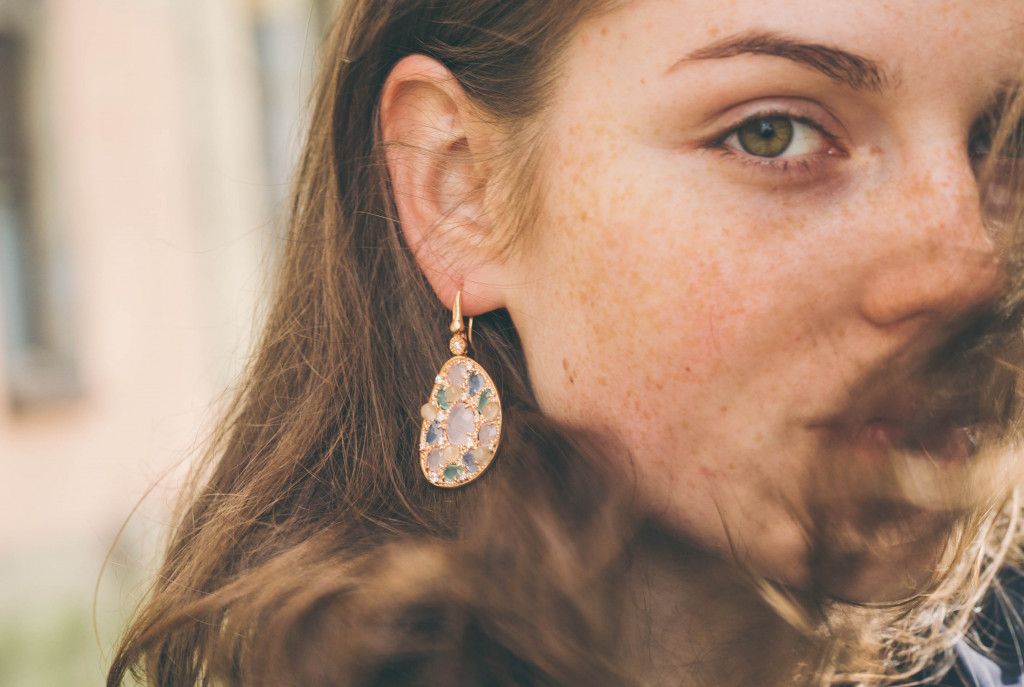 Pretty in Pinks and Purples
Delicate, soft, and ethereal describe pastels. Among the lovely and welcoming hues that go along really well with any jewelry are baby blue, mint green, flush pinks, and pale yellows. The combination of a pastel design aesthetic and a rose gold accessory with a pastel gemstone or a diamond often has a charming appeal. It's best to opt for gems with subtle colors such as aquamarine and morganite when picking accessories to fit your pastel theme.
Complement the Neckline
When choosing a necklace, keep in mind the design of your shirts and dresses' necklines. These two should complement each other rather than compete with one another. A necklace that doesn't match your neckline might set askew your overall outfit. In most cases, it's recommended to follow the contour of the neckline while choosing accessories.
A good rule of thumb is that your jewelry should end a few centimeters above your collarbone. Long necklaces look their finest when worn with a simple, unadorned neckline. You can make your necklace stand out by the amount of skin you reveal when wearing it.
Sea-Colored Clothes with White Pearls
People can't mine pearls from rocks or caves. Instead, experts dig for oysters or develop personalized pearls in a symbiosis. You shouldn't be surprised, then, that pearls are best suited to those different shades you can find in the ocean. People often combine these marine jewels with seawater in various colors, from stormy grays and greens to deep blues and aqua.
Final Thoughts
Anybody could and should learn how to master the art of accessorizing any outfit with jewelry. The right necklace can enhance your appearance, highlight your assets, and showcase your flair. That's why learning how to accentuate your clothing is worthwhile.
The tips mentioned will help you put together clothes that will make heads turn everywhere you go. It doesn't matter if you're going to a formal event or a casual one; there's always a jewelry piece to match. It's all about how you dress it up.