Sometimes, the best way to relax is by taking a break at home. From watching movies and playing video games with the family during the weekend to reading a good book while enjoying coffee on weekdays, having an area designed specifically for these purposes is just one way of creating a home you'll love living in.
The best thing about it is you don't need to remodel your entire room to set up this part of the house. There are many ways to do that when there's little space available at home. Home renovations are not always easy or cheap, but there are some simple changes you can make that will help you enjoy your downtime much more.
Find your Spot
Finding the perfect spot for your leisure space is essential. You have to designate a specific area of your house as a place to relax. Whether you want to put it in the living room, kitchen, or bedroom, there are ways how to do so without breaking the bank.
If you're tight with budget and space is limited, putting up a corner where you can sit back and enjoy spending time with family or friends will be a great idea. You can use a piece of furniture that's already there, put up a hammock or improvise with pillows and cushions.
Start with the Walls
One way to create a leisure space at home is by starting with the walls. You can add a few pieces of furniture, hang some posters or paintings, and put up a curtain to create a sense of privacy if needed. You can also put in a small television or gaming console to make things more fun if you have enough space.
In addition to this, you can also add some wallpapers if you want. If your home is an apartment or condo, opt for a clear and straightforward wallpaper that won't cost too much money. You can go for small prints in neutral color tones such as black and white. As long as the wallpaper complements your other furniture pieces or decorations, you're all set.
Make it Comfortable
One of the most important things about having a leisure space at home is making sure it's comfortable. It means having furniture that's the right size for you, as well as the necessary tools for hobbies you enjoy. If you're into painting, make sure to have an easel at hand. If you like playing video games, it won't hurt to put up your game console and screen either.
Whether you want to play music or watch movies, having speakers around is another great idea. Depending on the space available in your house, you may want to invest in a wireless sound system. Doing so will add more excitement and thrill to your downtime without compromising the state of your home or spending too much money.
Take it Outside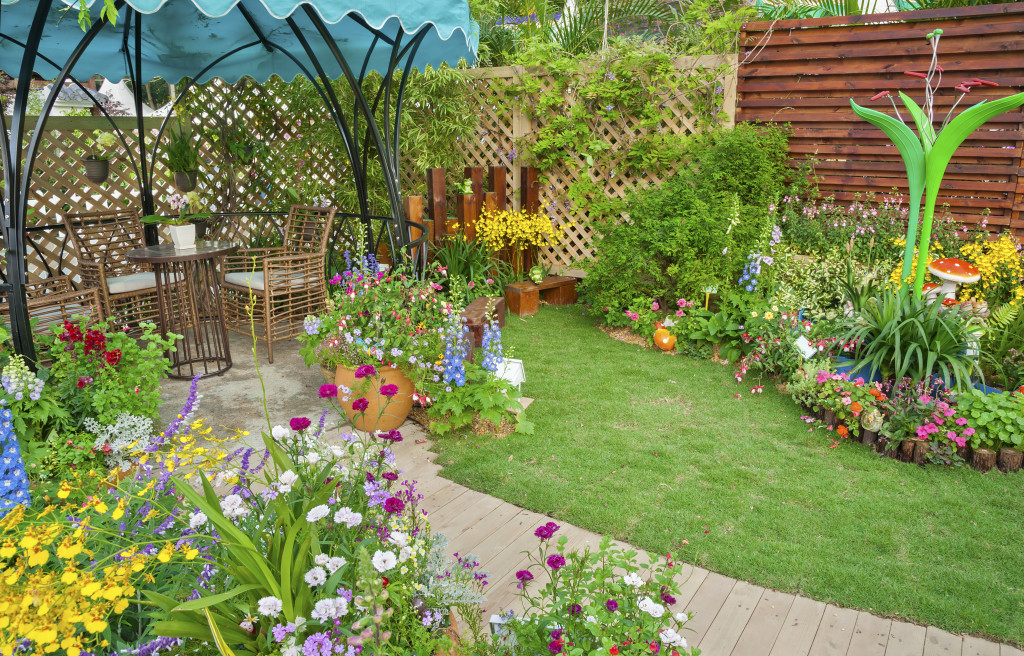 One great way to enjoy your leisure space is by taking it outside the home. It can be done in several ways, depending on your interests and preferences. One option is to build your place in your backyard.
If you have a spare space, feel free to put up a gazebo or garden shed. Make sure to include some comfy chairs and a small table for your convenience. Another option is to make an extension to your home. All you'll need is to visit your local concrete contractor for some materials and hardware for tools, and you can proceed to take it from there.
Make it Moveable
Having a leisure space at home is a plus, but what if you need to move out or travel for an extended period? What happens to all your hard work and investment?
One way to avoid this issue is by making your leisure space portable. It means having furniture that can be easily transported and set up in another location. You can do it by choosing light and compact pieces and those that don't require too much assembly.
In addition to this, you can also put all your decorations in storage. Doing so will help make things less complicated and reduce the time it takes to set everything up again. Make sure to label each container or bag clearly to know where everything goes.
Having a leisure space at home is a great way to relax and unwind after a long day. You can add personal touches to make it feel more like home, and you can also take it outside the house for even more fun. Nonetheless, it's all up to you and whatever you like doing. Make sure to make it functional and practical for your needs.