Do you ever return to your seat in a restaurant or hotel and feel forced to say something about how nice the toilets are? It's simple to feel peaceful, pleased, and a little fancy when we're in a gorgeous bathroom.
Are you about to embark on a new bathroom renovation project? Is this your first time doing a home improvement project? You could be feeling overwhelmed by the options if you're browsing for bathroom renovation ideas. Magazines and websites dedicated to bathroom renovations are brimming with magnificent ideas.
So, which one is the best fit for you? We've put up a list of our favorite pointers to assist you to strike the perfect blend between practical design ideas and your creative customization desires.
We all want a clean and comfortable bathroom. Apart from that, it's also critical that it has the appropriate fixtures and facilities that may provide both purpose and value.
Here are some helpful tips for making your bathroom renovation dream a reality:
Plan Everything Before You Start
Before you start mood-boarding or falling in love with a bathroom design you want to emulate first ask yourself the boring questions. This will also help you to plan everything and stay ahead of the curve.
Before getting started, any designer worth employing would ask these questions to its customers. So prepare your responses, consult with your designer, and begin collecting inspiration photographs.
Prepare your answers for the following questions:
What is your daily routine? It will have an impact on the design.
How much money do you have? It's better to plan ahead of time than to be disappointed later.
How much space do you require? It's simple to add today, but it'll be more difficult afterward.
What do you dislike about your existing bathroom? Of course, so that it isn't repeated in the next one.
How many people will use the bathroom? You'll have to pick if you want twin sinks and mirrors or just one.
Pick Out the Right Materials
A bathroom redesign needs a lot more planning than you would realize. You have many design and customization ideas, but each one may necessitate a distinct mix of materials and textures. Check to see if the items you're looking at will truly work for your makeover.
You need to pick the right fixtures and fittings to create a unique bathroom aesthetic. It's usually a good idea to seek advice from an expert before carrying out any of your ideas.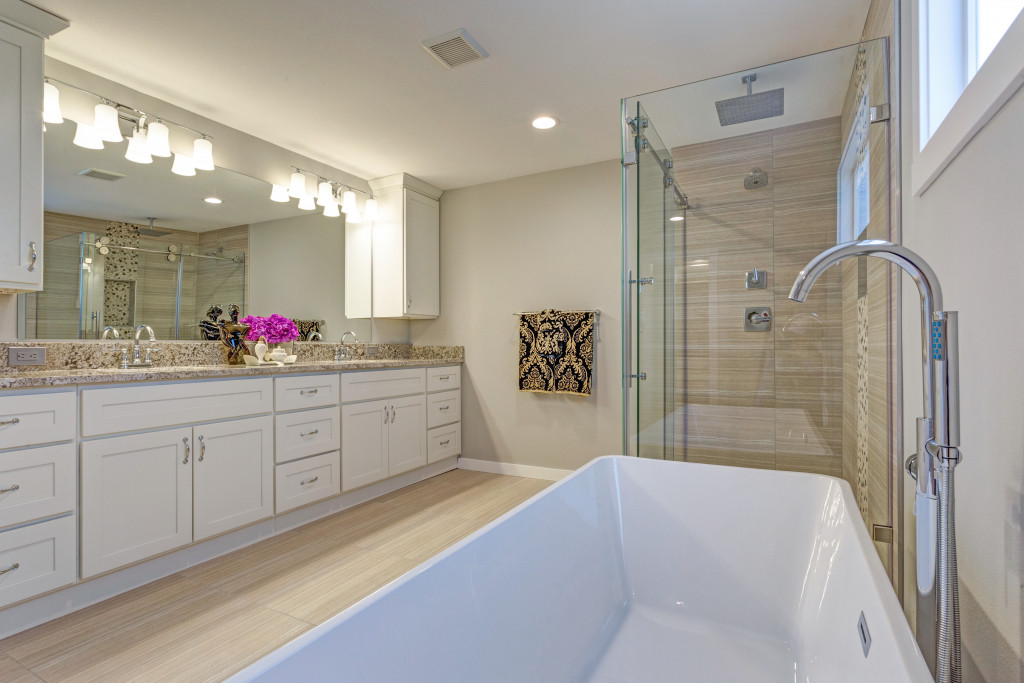 Mirrors Can Be Used to Make Bathroom Look Spacious
When it comes to tiny bathroom design improvements, huge mirrors may help to make a small bathroom appear lighter and more spacious — a frameless mirror that spans the whole length of one wall is particularly effective.
Mirrors in the bathroom not only provide the impression of greater space, but they also reflect more light back into the room. If you already have a mirror in your bathroom, try enlarging it. Keep in mind that mirrors with no frames provide the impression of more space. You should also install heated pads beneath the mirror to prevent misting after showers and baths.
Wet Rooms are the Hottest Bathroom Trend
As home decor trends change, we've discovered that unusual bathrooms are always a popular choice. For instance, wet rooms have been popular in high-end bathrooms for a few years, due to their streamlined use of materials and enhanced degree of accessibility.
Shower screens, trays, and other barriers are not used in these places, allowing the room to be completely open, and all surfaces are coated to be water-resistant.
Wet rooms may not work with every bathroom design, but they may add a lot of value to a home if you have the space and money. The majority of wet rooms have no barrier between the shower and the toilet.
Go With Reliable Contractors
Choose a reputable tradesperson, whether it's a plumber, a builder, a designer, or an electrician, and do your homework on the bathroom renovators you've picked. Request past examples of their work and ask for referrals from your friends.
We would recommend hiring a licensed plumber. When it comes to water, there are a lot of risks, and even the most experienced people might have problems. Those that ask for cash are telltale signals of untrustworthy tradesmen. Be wary of requests for advance payments, which might indicate cash flow issues or the refusal of builders' merchants to extend credit.
Any professional contractor would gladly sign a basic contract with you and a third party to ensure that the agreed-upon work is completed on time.
You want to be sure you're getting the most bang for your buck when it comes to bathroom renovation. A bathroom remodel is an investment for your future — one where you will earn profit since you raised the value of your property.