Your home is one of the most critical places in your life, and there is no reason it should not look luxurious without breaking the bank. A home with high-end style doesn't have to be expensive; you need the right tips and tricks, but sometimes the budget doesn't allow for it. Here are 6 practical tips to make your house look expensive on a budget!
Keep it clean and clutter-free
If you want your home to look like it's worth a million bucks, you can do a few simple things to make it look more expensive. First, keep it clean. A clean house looks well-cared-for and is more inviting than a messy one. Second, declutter. Too much stuff can make a home look cramped and cluttered. Instead, choose a few key pieces of furniture and decor you love and eliminate the rest. Finally, don't forget the little details. Adding fresh flowers or scented candles can give your home a touch of luxury. By following these tips, you can easily make your house look worth a fortune – without spending a lot of money.
Choose neutrals
When it comes to decorating your home, there are a lot of different ways to approach it. You can choose a more eclectic look, mixing and matching different colors and patterns. Or you can opt for a more timeless look by sticking to neutrals. Neutrals are classic and elegant, and they can make your home look expensive without breaking the bank. If you're unsure where to start, try using white as your base color. White walls will make any room look bigger and brighter, and you can always add pops of color with art, accessories, and furniture.
Once you have your white walls, you can start experimenting with different neutrals. Beige, gray, and black are all great choices that will give your home a luxurious feel. So next time you're stuck, remember that choosing neutrals is a simple way to make your house look expensive.
Invest in quality pieces
When you need to buy new furniture or décor items, invest in quality pieces that will last. Choose classic styles that won't go out of fashion anytime soon, and focus on buying parts that are well-made.
For instance, quartz countertops can be an expensive option, but they are also incredibly durable and luxurious. They can make your kitchen look like a million bucks – without spending too much. The same goes for furniture and décor items. By investing in good-quality pieces, you can make your home look expensive without breaking the bank.
Bring in nature
Look for ways to incorporate natural materials into your décor, such as stone or wood accents. You can also add greenery with houseplants or even a small indoor garden. The natural world can provide a calming influence, and that simple feeling of tranquility can be priceless. In addition, studies have shown that being around plants can boost your mood and improve your overall health. Hence, there are definite benefits to bringing nature into your home. Whether you go big or small, adding a touch of the outdoors will give your space an elegant and expensive feel.
Use Glass or mirrors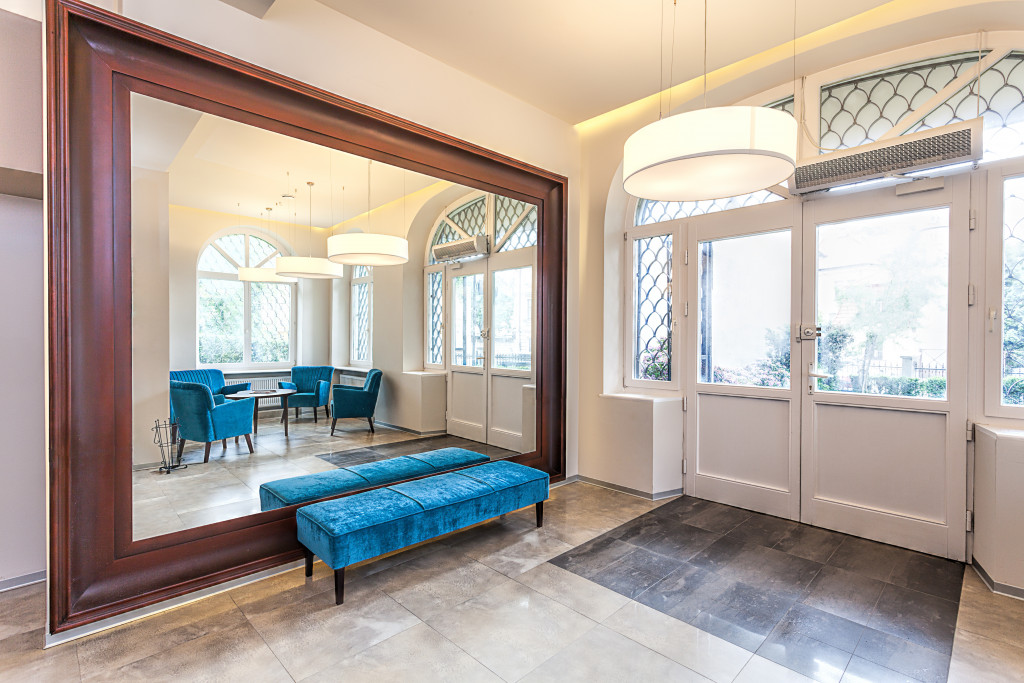 While some may think that using Glass or mirrors in your home décor is a bit of a cliché, there's a reason why this look has stood the test of time. Glass and mirrors have a way of reflecting light and making spaces look larger, brighter, and more expensive. If you're looking for ways to make your house look more expensive, consider incorporating some glass or mirror elements into your design.
A simple mirror hung above a console table can make a significant impact. Try placing a vase filled with beautiful flowers on a reflective surface like a coffee table or sideboard. You could add a few well-placed framed mirrors to bounce light around a dark room. Whatever approach you take, using Glass or mirrors is an easy way to give your home an instant upgrade.
Add dimmer switches
One small change that can make a big difference in the look of your home is to add dimmer switches. Dimmer switches are more attractive than plain white light switches and give you the ability to create a range of lighting effects. When used with LED bulbs, dimmer switches can help to save energy and reduce your electricity bill. They can also add a touch of luxury to your home, making it look more expensive. If you're not sure how to install a dimmer switch, plenty of online tutorials and DIY guides can walk you through the process. With a little time and effort, you can give your home a whole new look.
Final thoughts
Following these simple tips, you can easily transform your home into something that looks straight out of a magazine! Just remember to focus on quality over quantity, stick to neutral colors, and bring in nature for a touch of luxury.