When you have guests over, you want them to feel at home. Part of making your guests feel at home is giving them a comfortable place to stay, including the restroom. You want your guests to feel like they can relax and take their time when they use your bathroom without feeling rushed. If your guest restroom could use a little sprucing up, here are a few ideas to make it stand out.
1. Go for Comfort
Your guests should feel like they can relax in your home, including the restroom. When planning your renovation, think about ways to make the space more comfortable. For example, you might want to add a soft rug or an extra towel rack. You could also consider installing a bidet if your budget allows for it. Whatever you do, ensure your guests are comfortable using the space.
Consider their needs – if you have elderly guests, make sure the space is easily accessible. You may want to childproof the area if you have young children visiting. And if you have guests with allergies, be sure to use hypoallergenic cleaning products. You can also add some personal touches to make the space more inviting, such as a vase of fresh flowers or a basket of toiletries.
2. Think About Storage
Your guests will need a place to put their things while staying with you. Make sure there is plenty of storage space in the bathroom so they can put away their belongings. Install some hooks on the back of the door for guests to hang their robes or towel. Add a shelf above the toilet for guests to store their toiletries. And if you have the space, consider adding a dresser or armoire to the bathroom so guests can have a place to unpack their suitcases.
You can also install bathroom vanity cabinets to give your guests more storage space. You can use these cabinets to store towels, toiletries, and other bathroom essentials. Many bathroom vanity cabinets come with a mirror, which can be helpful for guests who need to get ready for their day. You can also find cabinets with a sink, which can be a great way to save space in your guest bathroom.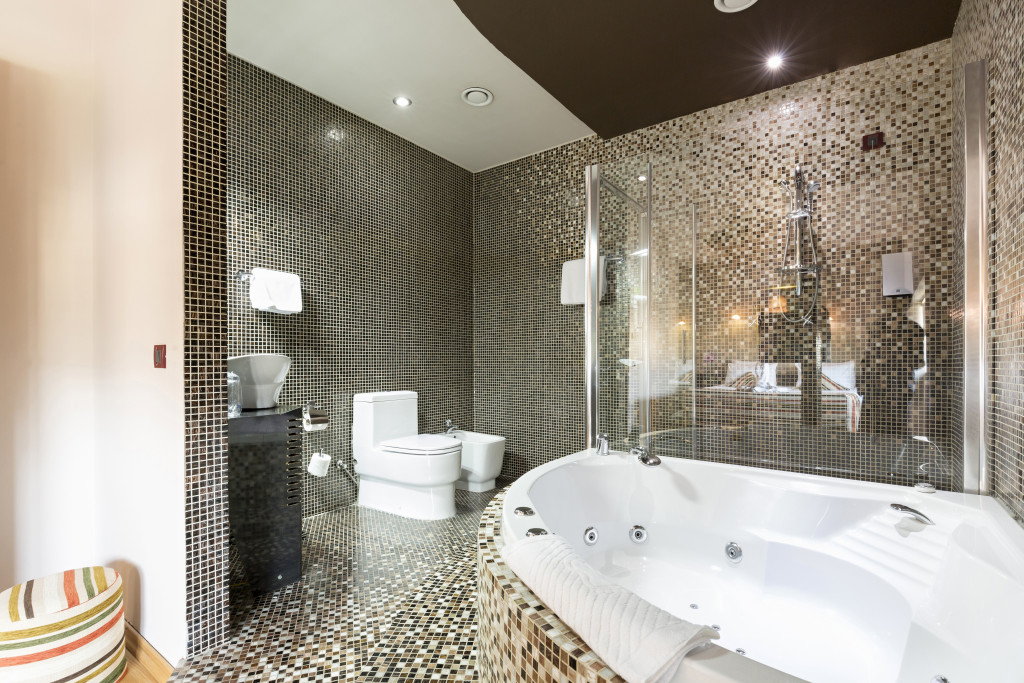 3. Stick to a Neutral Color Scheme
When painting colors and décor, stick to a neutral color scheme. This will help the space feel bigger and more inviting. Plus, it's always better to err on the side of caution when it comes to guestrooms—you don't want your guests to feel like they're sleeping in a child's bedroom. You can add a pop of color with your towels or bathroom accessories, but stick to neutral colors for the walls and floor.
Many people also choose to install hardwood floors in their guest bathrooms. This is a great way to add some warmth to the space. If you have tile floors, add a rug to make the room more comfortable. Some people also like to install a heated floor, which can be a nice touch for guests during the colder months.
4. Add Some Luxury Touches
If you want to make your guest restroom stand out, add some luxury touches. This might include high-end toiletries, plush towels, or even a robe and slippers. You could also add a small TV or DVD player so your guests can watch their favorite shows while they get ready for bed. Whatever you do, just make sure your guests will feel like VIPs when they use the space.
You might also consider adding a few personal touches to the space. This could include a framed photo of your family, a vase of fresh flowers, or a basket of snacks. Whatever you do, make sure your guests feel welcome and comfortable in the space.
5. Get Creative With Your Lighting
Many people forget about the importance of lighting in a bathroom. But the truth is lighting can make a big difference in the overall feel of the space. If you want your guest bathroom to feel warm and inviting, use soft, diffused lighting. You can install sconces on either side of the mirror or use a dimmer switch to control the level of light in the space.
You can also get creative with your lighting fixtures. If you have a small bathroom, you might want to install a skylight to let in natural light. Or, you could hang a chandelier to add some drama to the space. Make sure your lighting fixtures are safe and appropriate for use in a bathroom.
If you're looking for ways to make your guest restroom stand out, try these five tips. By following these tips, you can create a functional and stylish space. Your guests will appreciate the extra effort you put into making their stay comfortable. And you'll be able to enjoy the space yourself when your guests are gone!