The moment right after you snap that photo, the first question you may ask is "Is this Instagrammable?" Who can blame you when uploading a photo on social media can make you feel pressured. Not to mention the number of people on Instagram itself. The platform boasts an estimated 115 million American users. That's a lot of people. Only a little fraction of that would see your photos. But of course, you still want your pictures to look perfect for your followers.
When someone thinks of an Instagram-ready photo, they'd automatically picture certain qualities. They would usually think that the photo was taken on a trip with a landscape in the background. Some would quickly think about photos that were taken in the forest for an artistic touch. Others would think that the photos were taken in a big studio to look more professionally shot.
All these can tell you the qualities of a photo that you post on social media. But you actually don't have to go far away. Your house could be the best place to do your photoshoot. If you don't have a clue on how to do it, we'll teach you how.
Here are some photoshoot ideas that you can do in your house: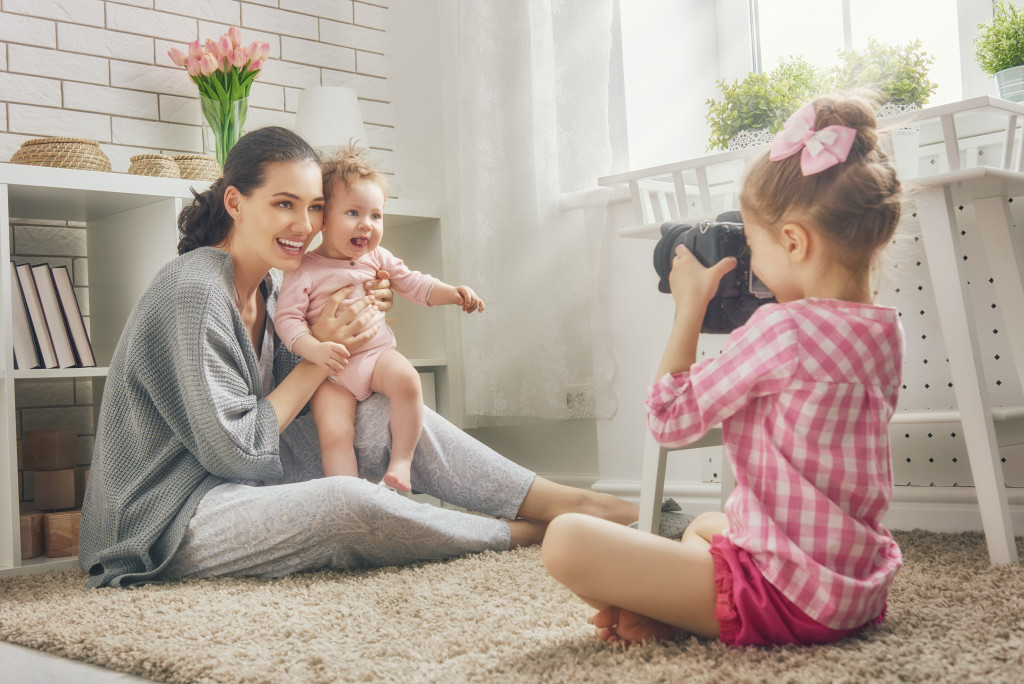 Use Your Pool
If you want an artistic shot that people would appreciate, you can use your pool for the shoot. There are a lot of themes you can do if you decide to use your pool in your setup. You can make it look luxurious by posing with a wine glass while your body is in the water. Another thing you can do is to make it look like a high fashion photoshoot.
Wear something that people don't usually wear in this part of the house. You can pick out a beautiful dress and just let yourself be submerged in the water. You'll definitely end up with a dream-like photo with this theme. Why not take underwater pictures too? Most camera phones are water-resistant now. It would just be up to you how you're going to execute your ideas when taking pictures underwater. Taking pictures in your house's pool is always great photography experimentation.
Pose With Your Plants
A lot of people have become plant lovers during the lockdowns when the pandemic hit. You've seen how plants became social media sensations. People found themselves getting in too deep with this hobby of taking care of plants. And they love showing their love of plants on social media. So why not take inspiration from this theme? If you have houseplants, you can strike a pose with them.
Arrange them so you could have a beautiful lush background. If you're extra and have a well-designed garden room in your house, utilize the place for your shoot. A fairyland theme would go well with a setup like that. Nothing could go wrong if beautiful plants are involved in your home photoshoot.
Take It Outside The Yard
You may want to recreate those stock images where people are lying in the grass and the photo is shot above them. You can definitely do it in your front yard. But of course, you can be more creative than that and do other photoshoot themes on your lawn. Do a 60s inspired barbecue party or a sunny vanity shoot. The lush grass in your front yard can complement anything. That's true especially when the weather is sunny. You can take lots of bubbly and heartwarming photos in your yard.
Keep It Inside Your Room
Sometimes, it's better when you do the photoshoot inside your room. It contrasts the numerous amount of photos on social media that were taken outside. Your room can also be a beautiful backdrop. You may have seen how the lighting in the hit HBO series Euphoria played a big role in every scene. Take inspiration from its moody and gloomy cinematography. You may be one of those people who have bedroom lights that illuminate a giant sunset-like orb.
It also has a filter that can illuminate ambient bluish color. That's something that you can use to light your photos. It'd surely give off that Euphoria vibes that you want to achieve and many of your followers would immediately get the reference.
Don't Forget the Bathroom Selfies
What's that beautiful mirror for in the bathroom if you're not going to use it for your selfies? Of course, it's something that only became a thing during the camera phone era. But if you have an aesthetically-pleasing bathroom, why not show it to your Instagram followers? A nice mirror selfie in the bathroom is going to be a classic. It'll never go out of style.
You should know that you don't have to go out to get great pictures. As long as you're creative, you can take Instagram-worthy photos in your house too.