Layer solid curtains with textured fabrics and complementing throw pillows and blankets for a custom, chic vibe.
Focus on key areas like the kitchen and bathroom, replacing outdated features with modern design elements for an instant upgrade.
Use art to add depth and character to any room. Consider color palette, themes, and appropriate scale when selecting pieces.
Add natural elements with real or faux plants and driftwood to bring life to any space.
Install dimmer switches and modern lighting fixtures to switch up the look and feel of a room easily.
Staring at the same old four walls day in and day out can start to get a bit, well, dull. But when it comes to luxury homes, it's not always as easy as slapping a fresh coat of paint on the walls or swapping out a lampshade. The good news is you don't need to undertake a full home renovation to give your abode the facelift it deserves. This blog will share some strategic and stylish ways to update the look of your luxury home without breaking the bank.
1. Layer it On
One of the easiest ways to instantly upgrade any space is by layering in textures and patterns. Start by layering simple, solid linen or cotton curtains on your windows, then top with patterned or textured fabric for a custom look without the custom price tag. Pair with coordinating throw pillows and blankets in complementing textures for a cozy yet chic vibe.
Make sure to keep the scale of your patterns small for a subtle look that won't overpower your space. A good rule of thumb is to keep the overall size and scale of your patterns no larger than half the size of the room. This will keep your space looking balanced and pulled together.
2. Focus on Key Areas
Of course, when it comes to luxury homes, it's the details that make the difference. Rather than trying to spruce up your entire space all at once, take a measured approach and focus on key areas. For one, the kitchen is a great place to start. A fresh coat of paint in a bold, contrasting shade and some modern lighting fixtures can instantly update the look without starting from scratch.
The bathroom is another great place to focus on. Swap out your dated vanity for something more modern, or add a few plants and wall art for an instant upgrade. For more significant changes, consider working with professional bathroom remodelers who can help make your vision come to life. They can also offer guidance and advice on materials and design choices that fit your style.
3. Rethink Your Lighting
The right lighting can transform a room and add that extra oomph you might miss. Swap outdated fixtures for modern statement pieces that match your home's personality. Consider adding dimmer switches to your existing fixtures to create ambiance and easily switch up the look and feel of your room. Don't forget to experiment with lampshades; whether it's a bold color or playful print, it's a small detail that can make a big impact.
4. Make a Statement with Art
Gone are the days of traditional framed art as the only way to jazz up a blank wall. Large-scale canvas prints, sculptural wall installations, and even unique tapestries can add depth and character to any room. If you're unsure how to select the right pieces, here are some tips: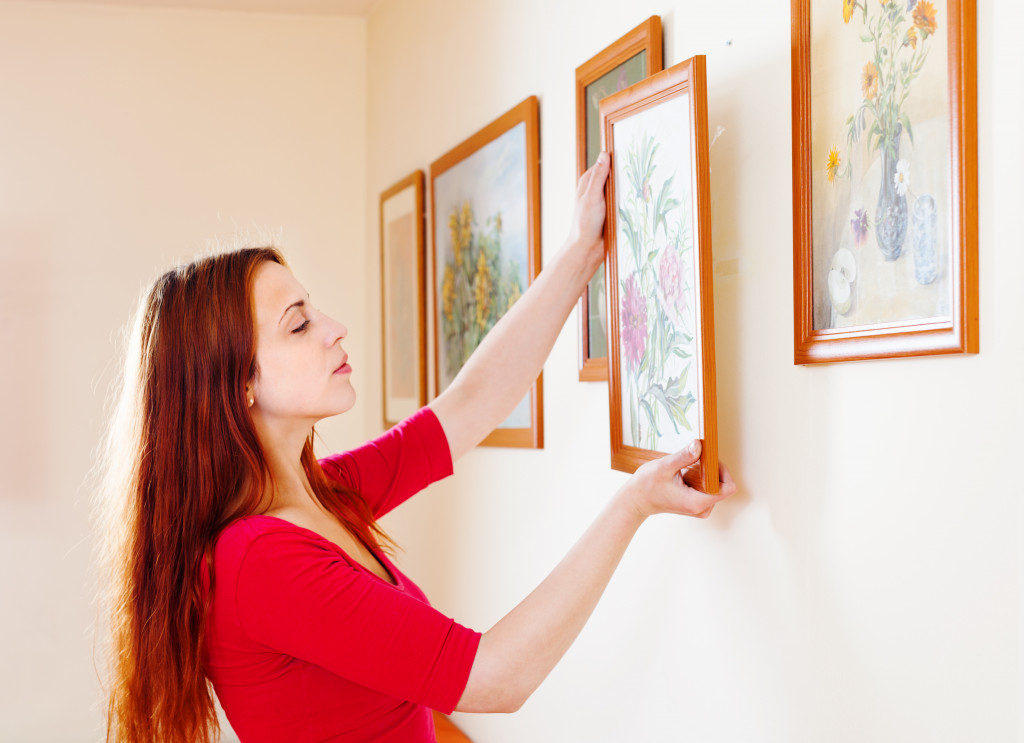 a. Consider the room's color palette
The key is selecting artwork that compliments the existing color scheme rather than competing. You don't have to stick to the same palette; complementary shades can also work.
b. Embrace a theme
If you have a certain theme for your space, artwork can be a great way to tie it all together. Think of the mood you'd like to evoke and find artwork that will help convey that.
c. Let the artwork speak for itself
Sometimes less is more, so don't overcrowd a space with too many pieces. Select one or two larger statement pieces and let those be the focus of your room.
d. Don't be afraid to mix it up
Finally, don't be afraid to mix and match styles. Combining traditional works with modern pieces can create a unique and inviting atmosphere that will impress.
5. Bring in the Outdoors
Mother Nature offers some of the most breathtaking design inspo. Bring in fresh botanicals, succulents, and unique pieces of driftwood to add natural elements to your space. Incorporating real plants can not only improve the air quality in your home, but they add instant life to any space. Alternatively, if you're short on a green thumb or natural light, faux florals have come a long way in the past few years, offering everything from realistic succulents to lush greenery that requires little to no maintenance.
By layering in textures and patterns, focusing on key areas, rethinking your lighting, adding artwork, and bringing in the outdoors, you can update the look of your luxury home without having to take on a full renovation. So next time you're in the mood for a change, try some of these simple and affordable updates instead. You just might be surprised by the stunning results.